"Living Our Lady's messages and reflecting Christ with our lives will manifest physically in our work…" - a Friend of Medjugorje


What is it that sanctifies and helps to make us free from vices? What in life brings security? What prepares us for a future life, that without this one thing we would have no future and no security? ...Work.
In the book Poem of the Man-God, Jesus describes the love for hard work exhibited by Our Lady and St. Joseph. Speaking about Their home while the Holy Family was in Egypt, Jesus says:
"In that house they love work, and they would love it even if there was plenty money, because the working man obeys the command of God and frees himself from vice, which like tenacious ivy clench and suffocate idle people, who are like immovable rocks. Food is good, rest is serene, hearts are happy, when you have worked well and you enjoy the resting time between one job and the next one. Neither in the houses nor in the minds of those who love work, can many-sided vice rise. And, in its absence (vice's); love, esteem, reciprocal respect prosper and tender children grow in a pure atmosphere and they thus become the origin of future holy families."
A Friend of Medjugorje, whose parents established in him a strong work ethic from an early age, and with his wife, who also is a hard worker, came to understand that Our Lady knew there would be a lot of work required of him, his family, and the Community of Caritas in responding to Her call to spread Her messages through the mission of Caritas of Birmingham.
Love for souls and love for work translates into a lot of hard work and long hours. The Community of Caritas works six days a week, resting from work on Sundays. A Friend of Medjugorje says, "We are blessed because we work five days for God and one for ourselves." This gift was the blessing of some of the first words Our Lady gave in the valley on November 20, 1988. Amazingly, Her message on that day was:
All the work of the Community of Caritas is approached from the standpoint that it is done directly for the Queen of Heaven. By God's grace, the lives of those in community lead others to conversion through the sanctification of their work, which is offered as a prayer. In their everyday life, they see the fruit of their labor and the fruit of their prayer, and God becomes nearer. So, as a Friend of Medjugorje wrote in "A Way of Life in a New Time," the rule of the Community of Caritas, "...blessed are they in their work that their lives become seamless - God from the start to the finish."
Work on Monday through Friday is devoted more strictly to the mission, while "Saturday Work Days" typically consist of projects that are geared more towards building the community infrastructure, which in turn strengthens the mission. Through its work, the community strives to provide for itself so that as much of the funds as possible that come into the Mission, stay in the Mission and go directly into materials and efforts that spread Our Lady's messages. Many families today are wasting their time running around during the week and on Saturdays at sporting events instead of building a way of life and a work ethic in their children that will benefit them for their entire lives. It will be very difficult for them when the time of grace is over and they come to the reality of what frivolous things they did when they could have been building a way of life instead of propping up the culture of death. Our Lady says:



August 2, 2009

August 25, 2013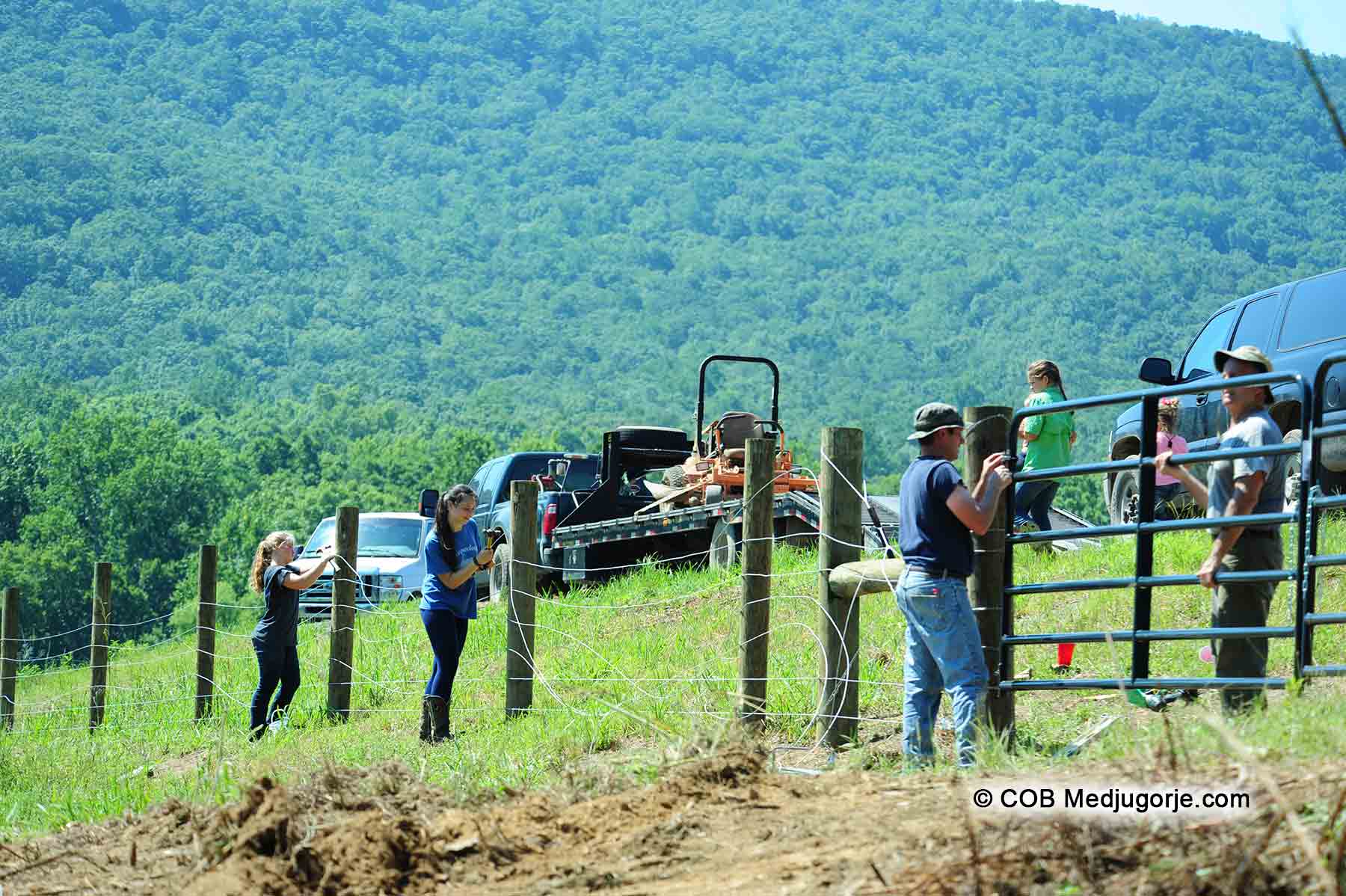 The following about work is taken from the Rule, "A Way in a New Time", written by a Friend of Medjugorje:
"We have a village, a factory per se, which includes: the mission with shipping and cargo docks, a farm operation, logging operation, sawmill operation, pottery operation, construction, and other minor operations and all the noise that goes with it; and none of it with the loss of, but rather with the protection of peace. Everything is nestled or tucked into the woods or the surrounding terrain, operating quietly in the midst of God's creation. Our Lady wants of us to witness to modern man of how to proceed and progress without the loss of God, keeping Him as Creator, with man collaborating with Him in all his endeavors.
"Community children are taught from the start to have value in their lives by working right alongside the adults. It is a great joy for them to work beside fathers and mothers and other community members, all the while being formed and molded in a hard-working mentality. From children to adults, the community finds great fulfillment, peace, and joy in their work by offering it all to Our Lady for the Kingdom of God. Their life has purpose, and their life is meaningful."
Below are some resources that provide more information on the correct mentality about work and some articles that give a glimpse into the work of the members of the Community of Caritas in the Mission as well as in "Community" life.
Work and Prayer, Labor and Reliance