January 2, 2013 A.D.
Our Lady Queen of Peace of Medjugorje's January 2, 2013
Apparition and Message Given to Mirjana on the Day for Nonbelievers

The following is Our Lady's message given today, January 2, 2013 on the day of prayer for nonbelievers:


This New Year is Something Many Will Be Afraid of. Why?

Arriving after being invited to Russia to meet with some priests and bishops about Medjugorje in the early 1990's, a very disconcerting situation developed. After being picked up at the airport and arriving at a very drab office building, the presence of an oppressive spirit remaining from communist days could still very much be sensed and felt. Upon arrival, 20-30 people were waiting and immediately an argument broke out amongst them of where this guest was to be taken. The argument escalated, divided into two contentious groups vying in a struggle of who would win. Just as suddenly, one group prevailed and a course was set to go to the Ukraine. This battle, and it was a heated battle within a people still inculcated with the affects of a communist mentality, was unnerving in that the one being struggled over felt the power of both sides pulling one apart, and wondered if things were going to end in disaster. Knowing this country's history and being placed in this uncomfortable situation immediately upon arriving into Russia, made one want to just go back to the airport and leave.



We are in a great struggle between two factions who strive for us. It is not a walk filled with pleasantries. In fact, Our Lady told us several times, including two additional times today, "Do not be afraid." The Russian experience came directly after spending a week with Marija in Italy. Marija asked Our Lady to bless an icon obtained as a gift for one of the Russian bishops in which Our Lady, during the apparition, blessed the icon and the trip for Russia's conversion. It was not surprising that because Our Lady blessed the trip; for while it was very uncomfortable and disconcerting and could have been an experience that would have been a cause to "be afraid," having being fortified with prayer and fasting, peace prevailed.


Our Lady said last month, December 2, 2012, "I strive." Today, January 2, 2013, Our Lady says twice, "I strive." The word 'strive' clearly is in opposition to darkness and its struggle for us. Webster Dictionary 1828 Edition defines more clearly just how much we are in contention for between the light and the dark.


Strive:
1. To make efforts; to use exertions; to endeavor with earnestness;
to labor hard.
2. to contend; to contest; to struggle in opposition to another; to
be in contention or dispute.
3. to oppose by contrariety of qualities.
4. To vie; to be comparable to; to emulate; to contend in
Excellence


Our Lady's words, "I strive," defines more clearly this great battle over us, through Our Lady's August 2, 1981 message we have, repeatedly through the years, quoted you.


August 2, 1981

Last month's December 2, 2012 message, Our Lady said:



We are being striven for, battled over, struggled for and many do not realize the magnitude of what is in our midst. We are in the throes of one of the most contentious fights for the population of the whole world, unlike anything the world has experienced in its history from the beginning. It is why Our Lady says:


April 4, 1985

Near here, at Caritas, in the 1800's, a frontier mother had gone down to the creek to wash clothing. While there, she heard her infant screaming. She ran back to her cabin and saw a large raccoon trying to kill her child. The woman, not having anything at hand, attacked the raccoon with her bare hands. A battle ensued. Anyone who has had experience with a large raccoon could imagine how difficult it would be for a strong man to fight a raccoon with his bare hands – how much more so for a woman! The woman's arms were slashed and bitten up and down, but a mother protecting her child cares not for herself. The woman literally choked to death the raccoon with her hands, all the while it was slashing her arms with its sharp claws. The man who recorded this story learned of it a couple of weeks later when he was passing by. He witnessed the slashes up and down her arms still "festering up" as he described the wounds the woman suffered while striving to protect her child in a motherly battle.



Our Lady's words of December 2, 2012:

The mother did battle with the evil raccoon. The Mother does the same to crush the serpent's head under Her heel. Do not think She is not wounded in her heart, as Mirjana has said, "if you saw just one tear of Our Lady, you would never want to sin again." It is the snake who strikes at "Her heel" that wounds Our Lady as the coon battled back against the mother to take the child.


This New Year is something many will be afraid of. Why? Because there is a lot to be afraid of in a great struggle unfolding. However, it is through prayer and fasting that you will be fortified to fear not. For those who are not spiritually fortified, fear will reign. Tyranny has come to reign and after this inauguration of January 21, 2013, in a few days, evil will be released from the starting gate. It may take some time for it to manifest after the inauguration, but the full release now of what will begin to unfold will manifest in the coming months and years.


February 2, 2012

Evil has amassed its power not only spiritually, but temporally into invalid laws without basis, imposing these invalid laws on God's people. These laws are without authority. Laws must have the authority of God to be obeyed. Christians are commanded to obey these laws no matter how unjust they may be. But with the exception that they fall in the order of Natural Law. When laws step outside of Natural Law, Christians are obligated to defy the invalid laws. Will we have to give Our Lady our lives to follow our conscience to remain holy and in the grace of God? Our Lady said:


November 25, 1997

In Jakov's annual Christmas apparition, Our Lady said:


December 25, 2012

Will you give a Christmas gift of your life to Our Lady? Anyone who has devotedly followed Our Lady has realized to the degree you give Our Lady your life is to begin a rigorous life of trials, commencing accordingly. It would be easier to accept martyrdom, than to live out the calling, for to follow Our Lady's way goes against the tide of society. For those who attempt to fully live Our Lady's way, everything will contradict and assault you to keep you from spreading Our Lady's messages and a way of life. Why? If we persevere and we begin to grow in numbers, into enough numbers to begin to threaten and redirect society's evil direction, society will not only persecute, but will physically martyr you, rather than give up its evil hold.



When Our Lady says "give the gift of your life," She means to give your life, to sacrifice your life for the salvation of the world. Don't delude yourselves in thinking society will just roll over and die without a fight for its life. It is Our Lady who said in Jakov's apparition on Christmas Day, and who repeats to you today in the January 2, 2013 apparition:


"…'I strive' to make your hearts like unto mine…"
"…'I strive', by my example, to teach you humility, wisdom and love because I need you; I cannot do without you my children…"
"…by His strength I am strengthening you…"
"…give the gift of your life to me…" December 25, 2012
"…give the gift of your life to my Son…" December 25, 2012

"…He will give you the gift of divine peace…" January 2, 2013
"…you will give the gift of my Son through yourselves…" January 2, 2013



It cannot be stressed strongly enough to read, or reread if you have already read, They Fired the First Shot 2012. Entering 2013, unarmed without understanding and praying for wisdom is as walking right into battle defenseless. For you who understand this statement, having read the book, 2013 is a call to action, spiritually and physically. There is no more time left for inactivity.


With Love for Our Lady's Guidance,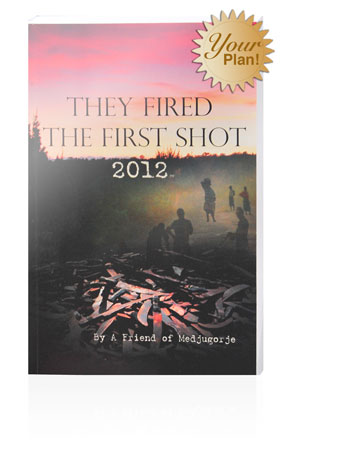 They Fired the First Shot 2012, by A Friend of Medjugorje

We are repeatedly told by those who read the book, of its importance:

"This book is a treasure and every person on the face of the earth should read it. Some of us will be ordering cases... Our Lady wants us to give them out... We have prayed and know that in order to do God's will, we must take the initiative to educate society..."
V.L.
Louisiana

Remember Radio WAVE with A Friend of Medjugorje, discussing Our Lady's message today. To listen to the Radio Wave show "Be Separate From Them", visit here...

Mirjana is seen here from her apparition last year on January 2, 20"12". Another year begins with Our Lady continuing to appear in Medjugorje. Medjugorje visionary Marija relayed after her December 25, 2012 message in which it was Baby Jesus who spoke and not Our Lady, that she momentarily wondered if the apparitions of Our Lady were ending for her. The three remaining visionaries who continue to see Our Lady everyday, which includes Ivan, Vicka and Marija, live with the knowledge that on any given day it could be their last daily apparition. This is true also for Mirjana's second of the month apparitions. We who follow Medjugorje so often take for granted Our Lady's daily appearances through Medjugorje and Her messages that come so regularly every month. One day the news will come that Our Lady has stopped appearing. What will console our hearts the most on that fateful day will be that we had listened to Her calls and tried to respond to them month after month and year after year.

December 25, 1989
Above is Our Lady's message from January 2, 20"12", written out on plain notebook paper after being dictated by Mirjana just after her apparition at the Blue Cross. From this paper it would be spread throughout the world—electronically, by fax, through word of mouth, audibly recorded, through printing presses, handwritten by some—teachings and guidance directly from Heaven for today's man. We all have heard the maxim, live today as if it were your last. It is good advice also for Our Lady's messages: live this message of Our Lady given today, as if it were the last message She was to give. Take a moment to thank Our Lady for Her continuing benevolence on behalf of our world that continues to be so in need of Her love and guidance. She was once asked by the young visionaries of Medjugorje how long would She continue to appear. She gave this answer:
June 29, 1981

Don't enter this New Year with a cold heart to Our Lady. As She said today, "…my children, do not be afraid to open your hearts to me. I will give them to my Son and in return, He will give you the gift of divine peace…" Who today is not hungry for the gift of divine peace? Before the New Year gets too much underway, renew your consecration to Our Lady and ask for a reinvigorated and sensitive heart for every word She continues to give to us, Her children, in this year of 2013.



If this site has helped you, please consider helping Our Lady, by becoming a Medjugorje.com Core Group member, for only 14 cents a day. Through your support, you help continue to make Our Lady's messages available FREE to all the world's population. For more information or to become a Medjugorje.com Core Group member click to visit here.